Regular price
$89.00 USD
Sale price
$66.89 USD
Unit price
per
Sale
Sold out


C21 Bluetooth calling smart watch
WITH 15-GRADE MILITARY TOUGHNESS, FOR ADVENTURERS - Outdoor tactical smart watch supports heat resistance to 187.96°F, cold resistance to -103.78°F, 150 hours underwater at 20 meters, and 150 hours in a salt spray environment. The military smart watch adopts a micro-sandblasted metal frame and titanium body, the rugged watch brings enhanced IP68 water resistance, 50 meters drop and shock resistance, and anti-magnetic point features.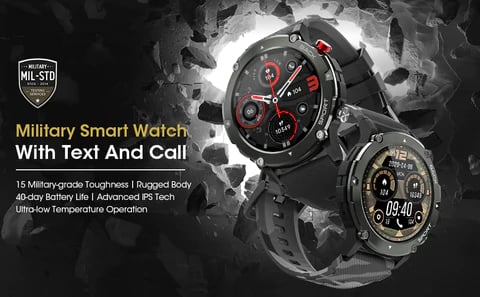 CALL ME NOW - Bluetooth smart watch built-in HiFi dual speakers and condenser microphone, supports Bluetooth dial, answer calls and play music. Turn on the Audio-mode in the watch, connect the Bluetooth named the ''C21 (Call)'' in your phone settings, then you can enjoy this convenience at once. (Note: you need to turn off the watch's ''Do Not Disturb'' mode before using this function)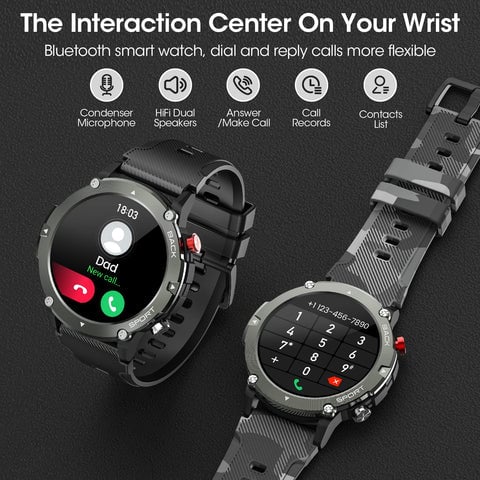 YOUR HEALTH, AT A GLANCE - Heart health is a top priority. Men smart watch equipped with 2022 newest enhanced biosensor core technology BIO3.0pro. Allowing monitor all-day heart rate and nighttime sleep. The measurement of blood oxygen and blood pressure is available, view the health data and sleeps quality analysis on the FitCloudPro APP, which helps you master the first-hand condition of your body.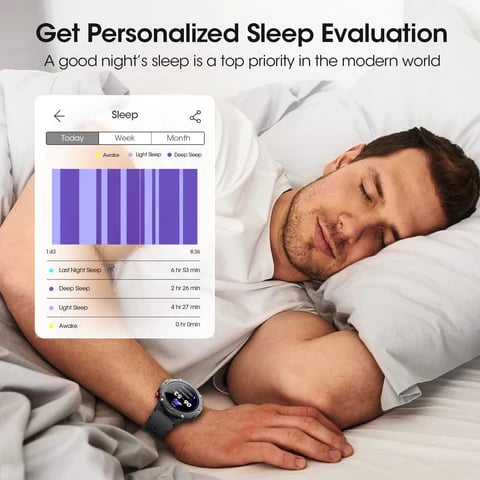 A NEXT-LEVEL ADVENTURE PARTNER - Men fitness watch features 20 sports modes and can be used to monitor critical data such as workout heart rate, distance traveled, movement speed, and calories burned in real-time. Come with message reminders, raises your wrist to light up the screen, then access information from your wrist, helping you to concentrate more on enjoying the exploration of the world. It is the best equipment for summer/outdoor/travel/festivals.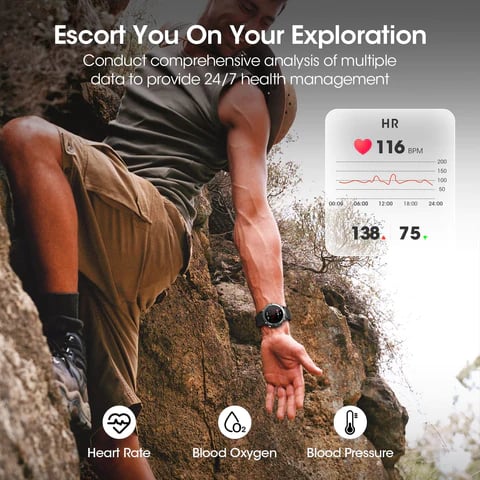 SEAMLESSLY INTO YOUR LIFE - Smart watch is compatible with most smartphones with iOS 10.0 & Android 6.0 or above. Built-in BLE5.1 chip with super low power consumption. Fully charged for 2 hours will be used for 40 days of standby, 15 days of typical use or 10 days of heavy use. Meanwhile, android smart watch with functions like weather forecast, finding phone, alarm clock, etc. It is a great gift for dad/husband/friends.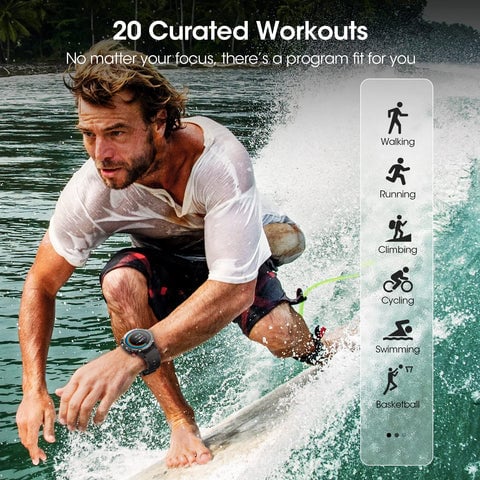 ---
Product Description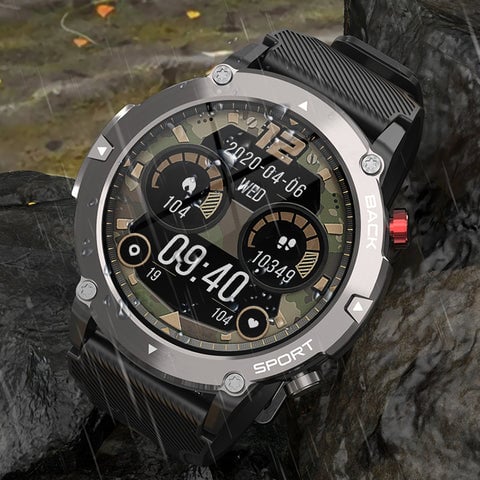 C21 Military Smart Watch- Specially Built For The Brave.
The bold and trend-setting look of the military smart watch is inspired by the spirit of nature. Absolutely the best partner for your adventure!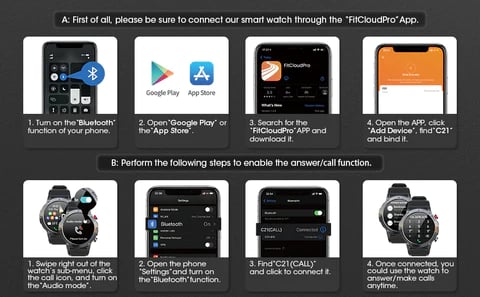 The above are the 2 steps to connect our watch, please read carefully how to pair two bluetooth correctly.
 1.Here are double Bluetooth units (APP Bluetooth and mobile phone audio Bluetooth), which need to be turned on first.
2. Bluetooth cannot be paired when the watch battery is below 10%. The distance of the Bluetooth connection should not exceed 10 meters.

How to use the music control or playback functions?
First, please complete step A and step B in the picture above. Then open the phone's music player to play music. Finally, find the "Music" icon on the watch and you can pause, switch to the next song.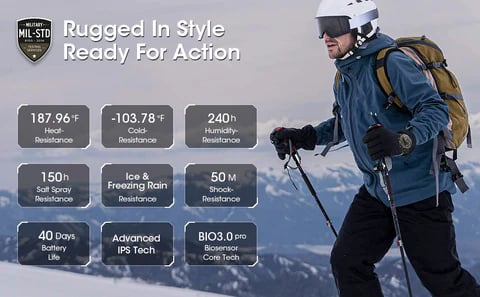 15 Military-grade Toughness, unleash your inner explorer and conquer the uncharted.
The absolute toughness of the C21 military smart watch, experience the thrill of hunting. This rugged smartwatch has 15 military-grade standards to prove it can stay with you on hot days as you traverse wet rainforests, go up mountains, or in freezing temperatures.
187.96°F Heat-resistance / IP68 Water-resistance(20m under water)

-103.78°F Cold-resistance / 240h Humidity-resistance

150h Salt Spray Resistance / Ice & Freezing Rain Resistance

50M Shock-resistance / High Altitude Test and Humidity Test

Mechanical Shock Test and Sea Turbulence Test / Anti-magnetic

40-day Battery Life / Advanced IPS Tech

BIO3.0pro Biosensor Core Tech/ Micro-sandblasted Metal Frame&Titanium Body

Optimal Wear Resistance and An Airtight Seal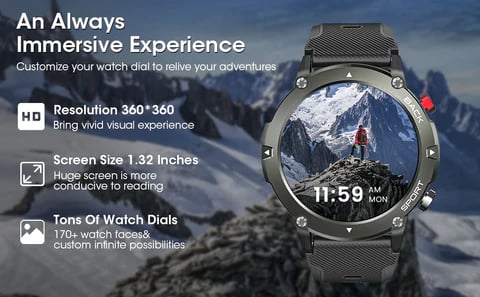 Commemorate each of your extraordinary adventures.
Men's smartwatch comes with 360*360 resolution and 65HZ refresh rate. The clear and stable image effect will provide better protection for human eyes.
C21 smart watch has evolved to a 1.32 inches screen, and equipped with advanced IPS technology, which will provide you with high light transmittance, better color reproduction and expressiveness.
The HD LED display is as clear as the purest ocean, and lets you experience the wonders of the wilderness or the untamable urban jungle through 170+ watch faces with matching vivid displays. Download your favorite from the FitCloudPro, or even upload a unique image that means something special to you.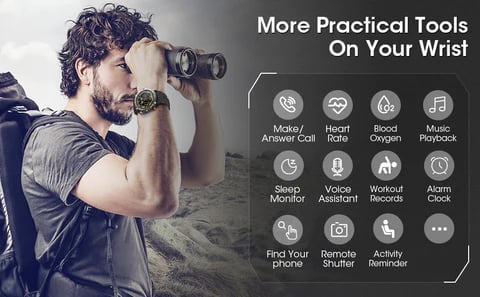 The best smart devices fit easily into your lifestyle, even in the wild.
Outdoor tactical smart watch has built-in HiFi dual speakers and condenser microphone, supports making/replying calls, and playing music. Whether you're on an adventure, hitting the gym or going out with friends, it's there for you.
Keeping you healthy from head to toe on your adventures. It can not only help you monitor sleep status and real-time heart rate, measure your blood oxygen and blood pressure, but also record your daily health data in the "FitCloudPro" APP.
The military fitness smart watch is a reliable, versatile and advanced lifetime partner. All kinds of functions are available, such as sports record, find mobile phone, shake to take a photo, weather forecast, activity reminder, alarm clock and so on.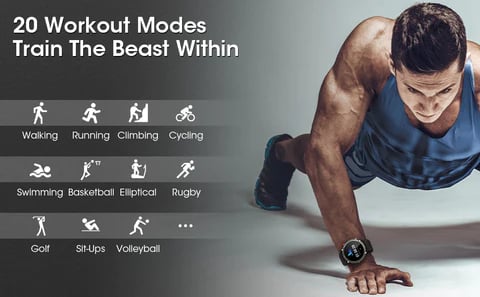 Main selling point:
1. 8762DK platform + 128M large memory, Bluetooth 3.0/5.0 protocol
2. Support bluetooth call, the call scene is more convenient;
3. Cool UI, support drag and drop operation + split screen function;
4. Large memory, rich UI scene, smarter watch;
5. 19 sports modes, suitable for more sports scenes;
6. 1.32-inch high-definition large screen, resolution 360*360;
7. HR3605 low-power high-definition heart rate and blood oxygen, more accurate detection;
8. 300mAh large battery has long battery life, reducing the trouble of charging at any time;
9. IP67 depth waterproof, suitable for wearing in more environments;
Hardware Specifications

Main control platform: 8762DK
Memory: 128M
TP: capacitive touch TP, sea oak 816D
Display: 1.32-inch 360*360 resolution high-definition square screen
Motor: Flat motor, wire-bonded
Bluetooth: BT3.0/ 5.0
Communication standard/data transmission 8762DK+Jerry
Heart Rate: HRS3605
Pedometer: Silan Micro SC7A20
Charging method: 2PIN magnetic cable
Battery: Capacity 300mAH (polymer pure cobalt battery)
Waterproof grade IP67
Software function
Software basic functions: dialing, common contacts, call records, voice assistants, data, exercise, exercise records, heart rate, sleep, blood pressure, blood oxygen, information, weather, women, music, stopwatch, timer, alarm clock, mobile phone search, Settings, Messages, Do Not Disturb, Brightness, Mute, Language, Password, QR Code, Split Screen
Sports / 19 sports:
Walking, Running, Mountaineering, Cycling, Basketball, Badminton, Soccer, Elliptical Machine, Yoga, Table Tennis, Rope Skipping, Tennis, Baseball, Rugby, Hula Hoop, Golf, Long Jump, Crunches, Volleyball
Dynamic heart rate: Dynamic heart rate trends and data analysis throughout the day
Blood oxygen detection: Support red light, infrared light sensor to measure blood oxygen saturation
Message and incoming call alerts: Phone, SMS, WeChat, QQ, Facebook, Twitter, Instagram, Skype, WhatsAPP, Line, Kakao Talk, others
WeChat Sports: Support synchronizing WeChat sports ranking
Weather: Connect to APP, push local weather
Watch menu language: Simplified Chinese, Traditional Chinese, English, German, Russian, Spanish, Portuguese, French, Japanese, Arabic, Italian, Korean, Romanian, Turkish (factory default English)
FitCloudpro APP
Android phone: Android 6.0 and above; iOS 10.0 and above;
Product packaging and specifications
Smart Watch Diameter 46.5mm*Thickness 13mm
Strap TPU strap, 22mm width, total strap length 264mm, adjustable area 160-250mm
watch color: black
Net weight (watch): 51.3g
Package Contents: Watch/Magnetic Charging Cable/Manual
Share
View full details